In our spring 2021 newsletter, we cover the connection between trees and stormwater, including innovative BMPs and programs to meet WIP goals.

Connecting you with tools, best practices, and resources to know what you have, plant and care for trees, and protect your canopy.
Newsletter Spring 2021 | View Newsletter Archives
Trees as Stormwater BMPs
As we welcome in the spring season and its showers, we turn our attention to the role of trees in stormwater management. This newsletter includes:
a letter from our Chesapeake Stormwater Network collaborator, David Wood
spotlight stories on turf to tree programs in Pennsylvania and Maryland designed to meet Chesapeake TMDL goals, and
a research highlight on an innovative gravel bed tree BMP design.
We encourage you to register for the remaining FREE webinar sessions of the Chesapeake Stormwater Network's Runoff Rendezvous – especially the 4/2 one dedicated to trees:
Seeing the Forest Through the Trees in the Bay Watershed
Friday, April 2, 2021 | 11:00 am – 12:30 pm
This panel will focus on how we elevate the standing of trees as an urban BMP in the Bay watershed by improving delivery of urban forestry practices in both the public and private sectors. The panel will focus discussions on innovative approaches to regional collaborations, financing, marketing, tree equity, and long-term sustainability of tree planting programs. The webcast will provide ample time for audience interaction to offer your best ideas on how we can promote the greenest of infrastructure.
---
Letter from a Stormwater Guy
Self-identified "stormwater guy" David Wood shares some thoughts on how stormwater managers are thinking about several big challenges and opportunities for expanding urban tree canopy.
Read More
PA: Lawn conversion program aims to reforest communities
by Ryan Davis, Alliance for the Chesapeake Bay
Pennsylvania's goal is to convert 1% of its lawn cover in the Chesapeake Bay watershed – a whopping 10,000 acres – to forest or conservation landscaping. They aim to get there in part through a new lawn conversion program.
Read More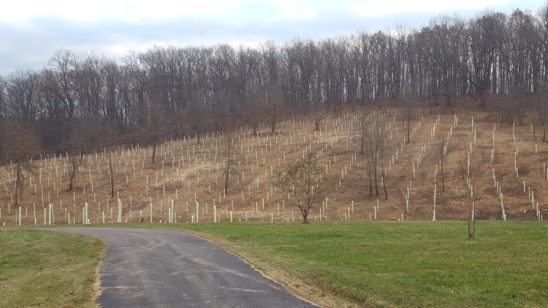 MD: Successful county turf-to-trees programs
by Brittany Haas, Alliance for the Chesapeake Bay
Trees are known to increase property value, reduce mowing, filter stormwater runoff, enhance wildlife habitat and improve air and water quality. Baltimore County and Frederick County are offering free reforestation programs aimed to plant trees on private and public land to help increase tree canopy and meet pollution reduction requirements.
Read More
Research Highlight: Gravel Bed Tree BMP
by Jason Sprouls, Neighborhood Design Center
I am excited for this opportunity to share my graduate research project that investigated growing trees in a gravel bed stormwater retention system as a novel approach to stormwater management in challenging urban sites.
Read More
Please send your ideas and suggestions for a future newsletter to info@chesapeaketrees.net

The Chesapeake Tree Canopy Network website is brought to you in collaboration with the Chesapeake Bay Program Forestry Workgroup, the Alliance for the Chesapeake Bay, and the USDA Forest Service.