Schools grounds offer a unique opportunity to expand tree canopy, and serve as a way to bridge tree canopy benefits to hands-on projects that make a difference.  In order to get a better understanding of the opportunities for increased tree canopy, the Cacapon Institute completed an assessment of over 80 public schools in the eight counties of the West Virginia Potomac Basin.  Through this assessment, school tree canopy coverage was graded and methods were developed to foster school pride in their tree care management.  The assessment concluded that many of the schools surveyed across have significant open space that is not utilized for organized play and offers potential to increase tree canopy.
"Carla Hardy West Virginia Project CommuniTree" is a program of Cacapon Institute.  "CTree," the largest tree steward program in WV, is increasing tree canopy on school grounds.  CTree is a partnership of the West Virginia Potomac Tributary Team including the WV DOF, DEP, Conservation Agency, and WV Region 9 Planning & Development Council.  CTree promotes tree planting and education on public land through volunteerism in the Potomac Headwaters of West Virginia.  The program focuses on enhancing and promoting awareness of watershed and riparian area needs such as storm water management, water quality issues, buffer zone planting, and soil erosion.
Organizations and agencies are encouraged to apply for CTree kits to organize, coordinate, and implement urban tree plantings through a competitive grant process.  Twice annually groups can apply for CTree Kits for spring and fall plantings. Kits include:
Trees in a variety of species and stock sizes for Shade, Reforestation, etc.
Tree tubes or cages to protect from deer; and
Mulch to foster good root growth
Successful CTree applicants also receive technical assistance from CTree partners and the West Virginia Division of Forestry. CommuniTree provides a strong educational message so citizens know to plant the right tree in the right place for the right reason.
A second program the Cacapon Institute developed to assist with tree canopy increase on school grounds is through the Potomac Headwaters Leaders of Watersheds Program (PHLOW), a program that teaches students that hands-on conservation in their local watersheds can provide significant environment benefits for the greater Chesapeake Bay Watershed.  PHLOW strives to:
Teach future stewards what they can do to reduce non-point source pollution
Design and install rain gardens, micro-nurseries, and plant trees at schools
Increase watershed awareness in the broader community
Demonstrate that students can make a difference in their school and community
Foster the importance of clean rivers for future generations.
PHLOW has three sub-programs: Grow-a-Garden, Growing Native, and Plant-a-Tree.  The three programs follow the distinct PHLOW model, educate students on environmental issues then inspire them to participate in hands-on conservation at their school.   The Plant-a-Tree Program contains age appropriate lessons on why trees are essential to our environment and provide food and shelter for both humans and animals.  It also contains lessons exploring the essential functions of each part of the tree through an interactive lesson.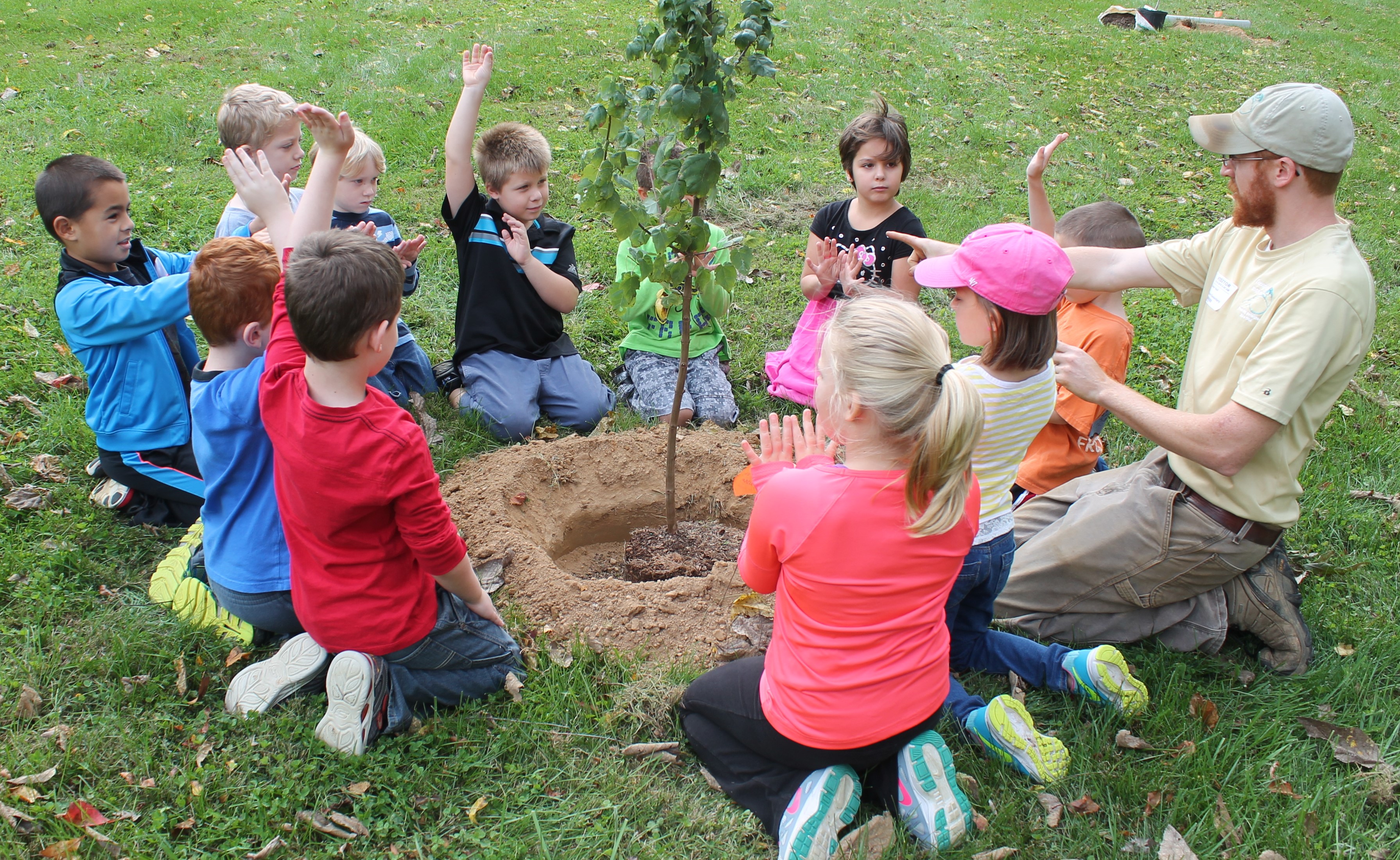 For more information on PHLOW, visit http://www.cacaponinstitute.org/phlow.htm.  For more information on CommuniTree visit http://www.cacaponinstitute.org/Forestry/CTree.htm.
Related Resources
Homepage Slider Photo courtesy of Cacapon Institute
Story by Amy Handen (National Park Service) and Jasmine Napier (US Forest Service)